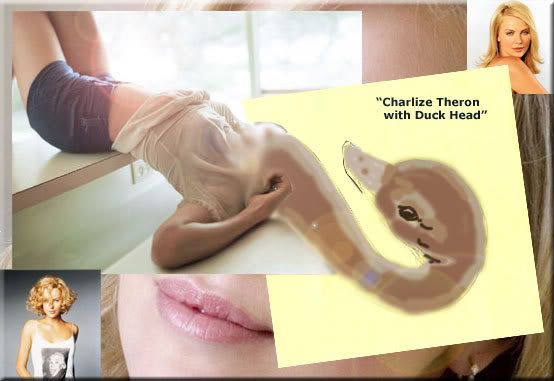 That's right. You saw it here first. Charlize Theron, with a duck head. This rare shot was captured - probably with much danger to himself - by Patrick Hillman over at Blowing Shit Up With Gas. He's good at that kinda thing - discovering all manner of strange and head-shake-inducing secrets of celebrities, and then posting them for the world to see, for it's own safety. Rarely do we see such "Candid Camera" shots as this, though. This is a real treat. I mean, who knew her mother was of the feathered persuasion?

Actually, what I want to know is, how the hell does she manage to cram that long neck and bill into a full-head human-mask all the time? Talk about cramps. And ruffled feathers. Still, I think she should be proud to show the world her true face - it's actually quite pretty. And she doesn't even need makeup, the lucky bitch. Look at those eyes! I'd kill for those eyes ...

-------------------------------------------------------------------------------

Ok, any other takers on the sticky-note exchange? This is the first response (thanks Patrick!) and it was fun. Send 'em in, peoples! Mum? Patrick B.(co-worker dude)? Hot Lemon? Anyone? I'll post this week's sticky tomorrow (meant to today, but forgot, and I'm at home now while it's at work).